Welcome to Mexico City, I'm Patrick McGahren and I'll be taking you through todays action from the Autódromo Hermanos Rodriguez circuit. This is the 18th Race of 22 so far this season. Shown below are the standings heading into today's action.
Yesterday saw a busy and competitive qualifying session with Mercedes able to gain an advantage over Red Bull qualifying P1 and P2 and locking out the front row of the grid, the full classification can be viewed below.
Qualifying
Starting from the back of the grid is Lance Stroll, following his big crash in qualifying. Thankfully no harm was done and Lance will be hoping for a surge up the grid and into the points.
The front of the grid was a surprise to us all, with Mercedes "Taking the sandbags off" to lock out the front row. After qualifying Red Bull's team principal Christian Horner said on Sky Sports "I think we got Tsunoda'd." this followed AlphaTauri driver Yuki Tsuonda seemingly getting in the way of Red Bull drivers Max Verstappen and hometown hero Sergio Perez on the last lap of qualifying.
If you want to read anymore on our race preview, check out this latest blog post from Emillia Hawkins.
Who are we backing?
Winner
Sergio Perez. Although Mercedes may have locked out the front grid, and the two clear favourites are Verstappen and Lewis Hamilton. Checo is one of Mexico's heroes and will have the full backing of the crowd behind him. Although he starts in fourth, with a good first lap and strategy he's our favourite.
Driver of the day
Lando Norris. The Brit finds himself in eighteenth place after being hit with a grid penalty for new engine components. Although being so far down the grid, Norris has gained himself a reputation for being an excellent overtaker and if he manages to make it to the points he will definitely be a favourite for driver of the day.
Flop
Valtteri Bottas. Who doesn't love a risky pick? Bottas may have looked good in qualifying picking up his third pole of the season but sadly results have shown us lately that he isn't able to transition this into race pace. Couple this with him playing second fiddle to Hamilton in team orders we predict he will drop back down the grid.
Although that being said, he does look rather good wearing his Fangio trophy helmet.
1 Hour To Go.
A Quick Reminder of the starting grid.
30 Minute Warning.
The Crowd looks electric here. I wonder who they're routing for?
Formation Lap.
Time for the formation lap, Valtteri Bottas leads the grid out on what promises to be an exciting race. Get your last minute predictions in below or tweet us at @overtime_online.
Tyre Update.
Esteban Ocon and Yuki Tsunoda are the only drivers on the soft tyre today, the rest of the grid have selected mediums.
Lap 1-And they're off, IT'S CHAOS at turn one! Verstappen manages to get ahead of the pack with a mighty start. Overtaking both Mercedes into turn one with a mighty burst of speed into the corner.
Safety Car Deployed.
Bottas has been spun around by Daniel Ricciardo, who has been forced into the pits to change his front wing after colliding with the Mercedes driver. Bottas also pits with damage.
Lap 2-Tsunoda and Mick Schumacher are out of this race. Both crashed attempting to avoid the collision between Ricciardo and Bottas.
Lap 5-Safety car ends and we're back racing. Alonso manages to overtake Nikita Mazepin to clinch 11th place. Lance Stroll is up into 14th, but is straight back down to 16th after scrapping with Daniel Ricciardo and being pushed off the track.
Lap 6-Lewis Hamilton is 1.5 seconds behind Max Verstappen as we begin lap six in this thrilling race. Lando Norris is up into 14th gaining four places so far.
The Grid So Far.
Lap 9-Looks like we were right with our flop prediction, poor Bottas has dropped down into 18th place. Kimi Raikkonen moves into ninth place passing George Russell.
Lap 10-Verstappen's pulling away. Max is half a second quicker than Lewis per lap, and has increased his lead to 3.3 seconds. Alonso also passes Russel, pushing him back into eleventh place.
Lap 13-Charles Leclerc being told to pick up the pace by his team on the radio. Carlos Sainz is behind him claiming he can go faster.
Lap 14-Stroll and Mazepin are in the pits, seems like they're going for the one-stopper as they put on sets of hard tyres.
Lap 16-Lando Norris is steaming up the grid, he's up into 11th place after overtaking Russel in fast fashion.
Lap 17-Perez on the radio saying his tyres "Keep getting better" he closes the gap between him and Hamilton to under two seconds. Hamilton is the complete opposite saying his tyres are "Dropping off massively"
Lap 19-Perez's team on the radio hinting that they could go to plan B. Could an undercut on Hamilton about to be played out by Red Bull?
Lap 22-While the top three pull away, Pierre Gasly is running a stellar race in P4 opening a gap of five seconds to Leclerc. Bottas and Ricciardo are battling for P11, with the Finniard desperate to overcome Ricciardo and move up the grid.
Domination so far from Verstappen.
Lap 23-Hamilton comes onto the radio saying "These guys are too fast for us" It seems he's racing Perez now as Verstappen increases his gap to 8.5 seconds. Hamilton's not able to pull away from Perez as he keeps the gap at two seconds.
Lap 24-If the grid were to finish in its current state, Mercedes and Red Bull would be equal in the constructors standings. 👀👀
Lap 28-Bottas still not able to get the better of Ricciardo, they've been battling for a few laps now and the Australian continues to frustrate the Fin.
Lap 29-Our pick for driver of the day Lando Norris continues to impress. He's in tenth place and in the points.
Lap 30-Hamilton Pits! He loses twenty-two seconds and comes out behind the Ferrari of Leclerc, an absolute nightmare for Mercedes. It looks as if Perez was told to do the opposite of what Hamilton did as he stays out.
Lap 31-Leclerc now pits, he opens up the field for Hamilton who shuns out a fastest lap straight away. Leclerc re-emerges in ninth place. Expect Red Bull to spring into action any time soon, Hamilton is currently two seconds faster than the race leader Verstappen.
Lap 34-Verstappen pits! Just as we predicted he's in the box for 2.2 seconds and comes out in second place. Sergio Perez leads the Grand Prix. I didn't have to look up from my screen to tell you that. The noise was deafening. He's the first Mexican to lead his home Grand Prix.
Lap 36-Perez, Verstappen, Hamilton, Sainz, Gasly. There's your top five as Perez says his "tyres are getting good." Sainz the only one out of these five who hasn't pitted yet.
Lap 38-Hamilton holds onto fastest lap, however Verstappen is creeping up the lap times board. The gap between the two world championship rivals is five seconds.
Lap 40-Bottas passes Ricciardo! Sadly it's only because Ricciardo has dived into the pits. It's the small victories Valtteri.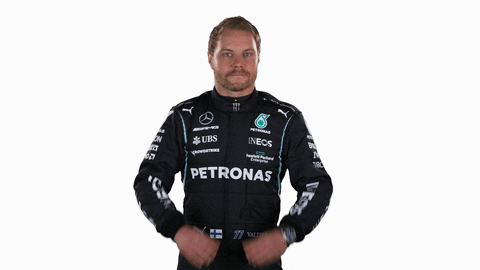 Lap 41-Perez pits. Lovely stop from Red Bull with a 2.2 second turnover. He rejoins in third place, nine seconds behind Hamilton and ahead of Gasly.
Lap 42-Bottas gets stuck in the pits. It seems we've jinxed him. Mercedes bring him in a lap after Ricciardo however poor Valtteri is held in the pit lane for eleven seconds after smoke appears to be coming from his brakes.
Mercedes join in our woes.
Lap 45-Verstappen's lead over Hamilton stands at 10 seconds, with Perez in third, though he's eating into the gap to the Mercedes. Verstappen asks Red Bull to keep an eye on his front left tyre.
Here's the full classification so far.
Lap 46-Lando Norris is the final driver to pit, he made it all the way to P7 before coming in. He rejoins in P10 on the hard tyre. His teammate is back in P12.
Lap 50-Perez sets another fastest lap. He takes 1.2 seconds out of Hamilton and is a man on a mission to catch the Brit. He's now 5.7 seconds behind with 20 laps to go, can he do it? Meanwhile Verstappen is absolutely cruising. He's twelve seconds ahead and completely unchallenged.
Lap 52-There's an interesting battle from P7 to P9. Between these three drivers there's seven world championships. Vettel, Raikkonen, Alonso. Even with all that experience, I still fancy the man in P10 Lando Norris to have them all.
Lap 54-"Are you still there?" Hamilton comes on the radio as the gap to Perez behind him closes to four seconds. Verstappen sets a new fastest lap, putting that extra point in his corner.
Lap 56-Ferrari driver problems, where have we heard that before? Leclerc told to swap positions with his teammate Sainz, a Chewbacca esc noise is heard from the radio.
Lap 58-Sainz now claiming "Charles is doing a lot of mistakes to keep me behind I think" this is followed by their immediate swap on track. No friendly wave from Sainz on the overtake. His new job is to hunt down Gasly who's currently P4 and twelve seconds ahead of the Spaniard.
Lap 61-Perez is coming for Hamilton! He's closed the gap to 0.7 seconds. It appears Hamiltons been caught behind Norris who hasn't received blue flags to allow Hamilton to pass.
Lap 64-The grid remains the same and all eyes are on the battle for P2. Hamilton claiming his car is overheating. Has the hometown hero Sergio Perez got what it takes too close this gap? The crowd are on their feet here getting behind their driver.
Lap 65-Mercedes pit Bottas to take the fastest lap off Verstappen with a set of softs. He's down in P14 so if he achieves his goal, he won't claim the point for himself but will take it off Verstappen.
Lap 68-Unsung heroes. Gasly, Sebastian Vettel and Sainz haven't put a foot wrong today and have run a great race. Gasly is in P4, with Sainz just behind in P5 and Vettel P7.
Lap 71-FINAL LAP. Can Perez catch Hamilton? He's dropped back for the last couple of laps but he's back right on Hamiltons tail. It's now or never for Checo.
IT'S ALL OVER
Max Verstappen comes home to the checkered flag and wins the Mexican Grand Prix. It was a brilliant race from the dutchman as he absolutely dominates the field extending his lead at the top of the world championship.
Lewis Hamilton P2 and Sergio Perez P3 make up the podium respectively with Perez getting close but not close enough to catch Hamilton on the last few laps. Bottas gets a mention for managing to steal the fastest lap off Verstappen, he does it in some style with a new lap record despite finishing down in fifteenth place.
And here is the full classification.
A great race here in Mexico City. Red Bull come out on top but Mercedes still lead by a point in the constructors championship. Sergio Perez is our driver of the day. Although he couldn't catch Hamilton he put in a stellar performance to achieve a podium in his home Grand Prix.
That's all from us here, join us as we head to Brazil next week.
For more Formula One content click here.
For more sports content click here.