Good afternoon, I'm Harry Blunt-Bigwood and today I will be bringing you all the latest updates as Russell Martin's Swansea City take on Mick McCarthy's Cardiff City in the South Wales derby! Both teams have endured a slow start to their Sky Bet Championship campaigns, with both clubs sitting on 11 points, putting them 19th and 20th respectively. Cardiff will be looking for their first win in over a month, with their last victory coming as long ago as the 12th of September against Nottingham Forest – they've lost their last five. Swansea probably enter this game as favourites, as they boast the most amount of clean sheets in the league (six) and have taken 5 points from their last 5 games in comparison to Cardiff's zero. It is, however, a derby of course, so anything can happen; you'd expect this one to be a feisty and tasty affair, hopefully with some fireworks!
TEAM NEWS
Swansea starting XI: Hamer, Laird, Naughton, Bennett, Manning, Bidwell, Grimes, Downes, Smith, Paterson, Piroe
Cardiff starting XI: Smithies, McGuinness, Morrison, Flint, Nelson, Brown, Pack, Ralls, Bacuna, Giles, Moore
As you'd expect from Russell Martin here, an expected line-up for the Swans in reality. Mick McCarthy plays the same back FIVE (all centre-backs, too…) that shipped four goals against West Brom last time out, making this a surprising and arguably questionable line-up for the Blues.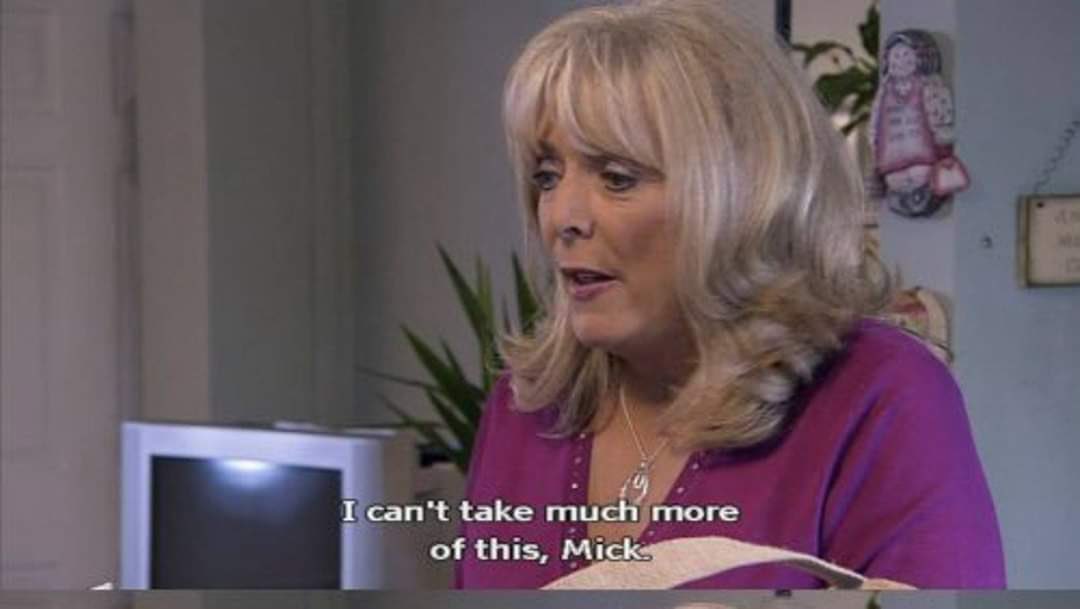 The fans aren't happy with Mick's line-up either…
ONES TO WATCH
Swansea's talisman Joel Piroe starts for the Jacks today, looking to elevate his impressive goal scoring record even further with the 22-year-old Dutchman already having bagged 5 goals this season.
The Bluebird's will be looking for more of the same from Aden Flint, as the centre-back poses a huge aerial threat from set-pieces and is currently their top goal scorer for the season (4 goals). The 32-year-old played 246 games for Cardiff's Severnside rivals, Bristol City, before moving across the Severn Bridge in 2019 – he starts for the Blues today.
FANS ARE BACK!!!
HERE. WE. GOOO!!!
The players take to the tunnel, and The Liberty is packed and roaring! This is what it's about – Derby Day with the fans in full voice! Let's hope this game matches the occasion, kick-off is next…
1′ – KICK-OFF
Cardiff get an early free-kick in the opposition's half, they've scored five from set-pieces so far this season and look to add to that tally. Pack delivers into the Swansea box, but the home side are able to clear their lines without any real threat.
3′ – PENALTY APPEAL
Laird cuts into the box and Nelson brings the winger down, he doesn't seem to get any contact on the ball but makes plenty with his man… the referee hesitates before awarding a corner. Swans will feel hard done by there, you've definitely seen them given!
The referee won't want to see that one again…
5′ – Good chance for the Bluebird's, as Moore threads a ball into the box giving Giles a one-on-one opportunity. He doesn't test Hamer as much as he should here, as the keeper makes a comfortable save with his feet – huge chance goes begging here.
7′ – Another free kick to Cardiff, Swansea will not want to be giving too many more of these away as the Blues do threaten from these positions. It comes to nothing on this occasion however.
9′ – End to end stuff in the opening 10 of this game, both sides are giving as good as each other. It's how you'd expect a derby game of this stature to start: aggressive, big chances, even bigger decisions and the fans in full support!
12′ – The Jacks have already secured 84% possession here, and they do average the most possession per game in the Championship so far this season. They're yet to hold possession too much in their opponents half so far, however, as they look to settle this game down and begin to dominate instead of playing into a more frantic, heated game which would probably favour Cardiff more than themselves.
15′ – Fans still unhappy about the penalty decision early on here in Wales…
17′ – Another Cardiff corner. The target man is Flint who gets his head to the ball but it sails wide without troubling Hamer's net.
18′ – Kieffer Moore is set loose in the opponents half, but the lack of support sees the counter-attack fizzle out. The five centre back's on the pitch does seem to prevent Cardiff from posing any real threat from open play, suggesting that McCarthy is playing for the set-pieces.
20′ – The same happens again. Moore is put in on goal but the Welshman again finds him self isolated, he's forced to go alone and in the end hits an untroubling shot into the hands of Ben Hamer in goal.
21′ – Injury here, and it's Ryan Bennett who's gone down. He's back to his feet and seems to be stretching out his groin. He'll continue for now but Cabango is told to start his warm up just in case Russel Martin is forced to make the change.
24′ – The game has evened out a little for now, as Swansea look comfortable in retaining possession and are looking to be patient in their attacks.
25′ – Yellow card for Bacuna, must say 25 minutes isn't bad going for a derby game…
27′ – Laird is the danger man so far, once again driving into the box but this time he can't muster up anything of note.
28′ – GOOOOOOAAAAALLLLLLLLLLLL
WHAT. A. STRIKE. Patterson takes one touch out of his feet and curls one from at least 25 yards out. It strikes the Cardiff post and flirts with the idea of bouncing back out, before nestling into the net on the other side of the goal. That's a special strike from Patterson there, who has 4 for the season following that absolute peach! 1-0 to the Swans, and the fans are loving it!
31′ – The game needed that goal, it was starting to level out a tad. Now the fans are back in full voice, and you'd hope that Cardiff will have to start showing some more urgency now they find themselves behind. They need to press Swansea a bit more, the amount of time and possession the Jacks have is allowing them to pick their rivals apart.
33′ – "Sacked in the morning" are the cries from the home fans, and McCarthy's job does seem fragile at this point. Tactically he's offered very little here, and the unchanged back FIVE from their 4-0 defeat to West Brom looks very questionable in light of this first half.
35′ – Corner for Swansea. The goal scorer, Patterson, takes a short one before Manning swings it into the box, Smithies collects without issue on this occasion.
36′ – Seriously. What a goal. The replays get better every time you watch it. If that's the one to clinch the three points today, I don't even think a Cardiff fan can argue with it.
37′ – Cardiff are offering absolutely nothing despite a fairly bright opening ten minutes. The fans know it too…
40′ – The Swans are happy to sit on possession for now, although Patterson's goal is a reminder that a goal cam always come from nothing. Cardiff will be tired of chasing the ball if this carries on into the second half, and may find themselves struggling to take anything from this game. Swansea, on the other hand, will be very happy with this first half and will feel as though they can start pushing up the league table if they continue with these kind of performances.
42′ – Smith is wrestled to the ground by Morrison, but no free kick is awarded. The home dugout are outraged and feel as though James Linington, today's referee, is giving them too little. It is a derby game however, and I feel the man in the middle has to let a few strong challenges slide as a result.
45′ – Cardiff have started to ramp up the pressure, and for a split second the home side looked to be struggling to play out from the back. More of this will be needed if Mick McCarthy's side are going to get back into this game, and possibly keep Big Mick in a job.
45+1′ – Two big throw-ins from Cardiff, each of which are dealt with easily by Swansea's back line.
45+2′ – A corner for Cardiff is the last action of note to end the half, again easily dealt with. Even their most threatening asset seems to be blunted at the moment for the Bluebirds, as each set-piece is cleared effortlessly.
HALF-TIME
An entertaining half on the whole, with an absolute wonder-strike from Patterson grabbing all the headline attention. Cardiff have looked really poor in all regards in complete honesty, whilst Swansea have been able to suffocate their opponents with a whopping 77% share of possession. Mick McCarthy really needs to rally his troops with his half-time team talk, or else he might find himself queuing up outside the job centre in Cardiff come Tuesday morning.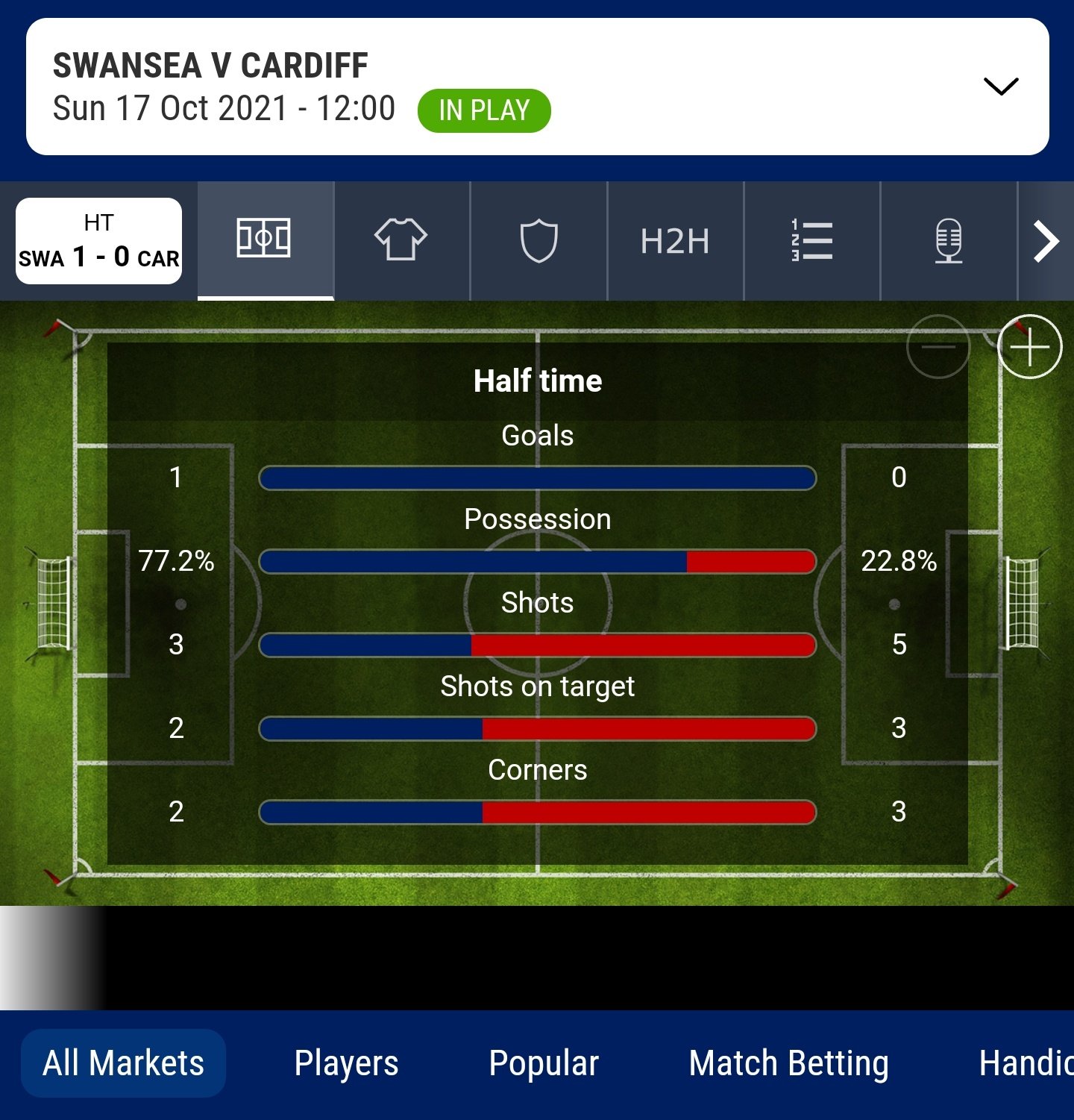 And here's the goal. Enjoy this one, you won't see many better.
The break is up and the players are back out on the pitch. You'd expect a home victory based off that first half performance, but football is a funny old game and anything could happen – especially in a derby! Big half needed from Cardiff, or else Swansea will take their 38th win against the rivals here today. Both sides are unchanged as we get underway again.
45′ – Kick off. Surprising from McCarthy to not make a sub at the break, chasing the game and having offered very little in the first half you may have expected to see an extra attacker brought on in place of one of the five centre backs. McCarthy backs his decisions however, and given his wealth of experience I'd feel underqualified to question him TOO much.
47′ – Slight signs of improvement from the visitors. They have players higher up the pitch already this half, offering a better support system for Kieffer Moore to play off – though a partnering striker might suit the big number 10 better, someone to bounce off of perhaps as he wins his aerial duals.
49′ – Laird has looked lively in bursts all game, you'd argue that if there was a second goal to come in this game he'll likely be involved in some regard. He wins a throw in on the near side, but Swansea can't find any forward passes to threaten Cardiff with.
51′ – Corner for Swansea, again taken short. Manning takes a shot with his left foot as he's unchallenged on the edge of the box, it's a decent strike but Smithies can watch it sail safely over his goal. A good chance to test the keeper there, but to no avail for the Swans.
53′ – Swansea's highline from a Cardiff set piece is to their detriment here, as the balls bounces and bobbles before eventually falling to Flint's feet who gets the shot off which goes out for the corner. A good chance for Flint.
54′ – The corner finds its way to Nelson's head, a virtually free header is sent over the bar from the centre back and you feel as though that was the chance for Cardiff to draw level. Nelson has to do better there.
56′ – It's Laird again who looks best out there. He cuts in from the right and gets a shot off with his left foot, Smithies makes a smart but comfortable save at his near post and settles the Blues back down again.
58′ – Good strike from Bennett from about 25 yards out, he finds himself with an abundance of space and time as there is no Cardiff player coming to meet him at the edge of the box – we're talking a good 5-10 seconds of no pressure here, it's ridiculous. Smithies saves and the subsequent corner comes to nothing.
59′ – GOOOOAAAAAALLLLLL
2-0 SWANSEA!!! And it's Piroe's 6th of the campaign! Patterson floats a delightful ball over the Cardiff defence, allowing Piroe to take it down on his chest and set himself inside the area. Smithies comes to smother which allows Piroe to dink it over the Cardiff number 1 making for a cute and tidy finish, appeals for offside are rightfully waved away and Swansea double their lead! You feel this game might be out of a poor Cardiff side's reach at this point. 2-0!
62′ – PENALTY APPEAL! Once again waved away from by the referee, this time probably rightfully so. A great challenge on replay, and a good decision from the man in black.
65′ – It's so easy for Swansea here, and finally McCarthy is making a change. James Collins makes way for an injured Bacuna, whilst Korey Smith makes way for Ntcham for the Jacks.
68′ – Swansea even happier to pass the ball around without threat now that they've added to their lead. Not one thing to take away from this game for Cardiff so far, they've looked really poor in all aspects.
70′ – Another corner taken short by Swansea, clearly something which they've worked on and talked about prior to the game as this is the fourth time they've opted to take a quick short corner. Again it comes to nothing however.
71′ – Great save from Smithies! Ntcham side-foots a power effort across the floor from the centre of the box, forcing Smithies to react quickly with his feet where it could have easily slid underneath the keeper. He's kept his side in it here, though it'd take something of a miracle for the Blues to take anything away from this game.
73′ – GOOOOOOOAAAALLLLLLL 3-0!!!!!!!!!!!!!!!!
Laird does well to keep it in play and is able to set Patterson into the box. Patterson floats a beautiful ball into the back post, and it's impossible for Jake Bidwell to miss with his header. The ball from Patterson is once again top class, he's really impressed here today with a stunning strike matched with two equally stunning assists – what a performance. The look of despair on McCarthy's face tells the story – can only imagine the pressure he must be feeling as "sacked in the morning" rings around the ground again. Lovely goal, and frankly the contest is over here.
77′ – Swansea are playing with confidence now, playing with style and why not? 3-0 up against your most fierce rivals is bound to get the creativity flowing. Just a case of seeing this one out now for the men in white.
79′ – Colwill on, Brown off for Cardiff in a slightly more attacking move. Bennett makes way for Cabango for the Swans, he's played well today Bennett and deserves to watch on for the last 10 minutes knowing he's played his part in a derby day victory.
81′ – Great tackle from Flint there, sliding in to nullify Laird's effort. At 3-0 down it takes some passion to make the recovery run that Flint just has, perhaps frustration was the driving force behind what is a terrific piece of defending in the end.
83′ – Handbags are out here, as Laird and Nelson face up to each other following a little nibble at Laird's ankles from Nelson. Laird has had a brilliant afternoon and doesn't need to get caught up in this.
84′ – The last substitutions are used for both sides: Vaulks on for Ralls, whilst Cullen takes place for Piroe.
87′ – Concern for Ethan Laird here who has gone down and stayed down. Vaulks seems to catch Laird on the face whilst contesting in the air, shouldn't be anything too serious for Laird and it'll suit his side to wind that clock down.
89′ – I think the biggest surprise is only two yellow cards being shown today. 74% possession for Swansea now too, by the way. Impressive to hold that high of a percentage consistently throughout the game, perhaps Russell Martin's ethos is starting to click for his side.
90′ – 3 minutes added, this one's done and dusted. Swansea fans are revelling in their derby day victory, whilst Cardiff fans head for an early exit. Swansea fans will be the ones bragging in the office tomorrow morning, whilst there might be a few Blues taking a sick day or five.
90+1′ – Patterson for man of the match here. Two sublime assists and an absolute peach of a goal in the first half. Laird deserves a mention too, but Patterson's masterclass overshadows any performance out there.
90+3′ – FULL TIME
Six consecutive defeats for Cardiff as Swansea City dismantle their rivals here today. A really impressive, dominating performance from the Jacks as they controlled the game throughout. Patterson was the difference today as his first half stunner gave Swansea the foundation to build upon in the second half where his two assists saw Piroe and Bidwell join him on the scoresheet. Martin's men will feel confident after that one, whilst McCarthy will be feeling the ever-growing pressure upon his side and his job. Great game of football, with some world class goals. Full-time, Swansea City 3-0 Cardiff City.