Ever since that fairy tale season of 2015-2016, everything that Leicester have done has seemed very underwhelming, and perhaps they are being judged unfairly based on that season. The Foxes have finished in both 12th and ninth, which are their highest finishes in the Premier League since the 1999/20 season – apart from the title-winning campaign. A top half finish is more than respectable for Leicester and based on their pre-season, that is exactly what they should be looking forward to. Leicester have had a relatively good pre-season, with draws coming against Lille and Valencia at the King Power, a 2-1 win against Udinese, and a 4-1 win against Notts County. With the ex-Premier League champions playing against such established opposition, it should hold them in good stead for the upcoming season.
---
SUMMER BUSINESS
Leicester's summer business has fluctuated massively throughout this transfer window. After selling Riyad Mahrez for £60 million, Leicester fans would obviously be fearing the worst, but the man tasked with the job of replacing him is England U21 star James Maddison, who scored 15 goals last season and was signed for £22 million, which could potentially rise to £24 million. They have also signed Jonny Evans, which was a no brainer, especially as he came from an already relegated West Brom and for just £3million. This could now give Claude Puel the potential to play a back three, which gives him a lot of flexibility within the team. Alongside this, they have also bolstered their defensive options by signing Croatia U21 international Filip Benkovic from Dinamo Zagreb. Alongside these two, we have also seen the addition of Caglar Soyuncu from Bundesliga side Freiburg, the defender has made 15 appearances for the Turkish national team at only 21 years of age. In case Puel doesn't want to play a back three, they have also recruited attacking right-back Ricardo Pereira, which gives him plenty of strength in depth as a manager. The signing of Danny Ward also gives Kasper Schmeichel a bit of competition, and for only £12.5 million it surely looks an absolute bargain.

---
KEY PLAYER – JAMIE VARDY
Leicester's key man this season will without a doubt be Jamie Vardy. With Mahrez leaving the club, the Englishman will need to continue his 20 goal a season heroics if Leicester want to do well. Vardy particularly excels against the "big six" with 40% of his Premier League goals coming against them (24 out of 60), with Vardy loving to score against the Liverpool defence, scoring seven in eight games. Vardy showed his class when he managed to match Ruud Van Nistelrooy's record and became the first player to score in 11 consecutive matches in the Premier League, a feat that supporters hope Vardy can get close to once again. Last season Vardy managed to get 20 goals, whilst going pretty much unnoticed throughout, mainly down to Mo Salah and Harry Kane's seasons. At the age of 31, Vardy perhaps hasn't got that many seasons left in him but will be hoping that he can help Leicester to as high a finish as he possibly can in the upcoming season, and maybe help them break into the top six.

---
MANAGER – CLAUDE PUEL
Claude Puel took over at Leicester City on the 25th October of last season, when the struggling Premier League side were in 18th, with Craig Shakespeare having been sacked by the club. He finished with the club in an impressive 9th place, but was expected to move to newer surroundings, with rumours speculating the Frenchman wanted a move back to his home country, however, he has stayed on at the club. Puel will always have a challenging time at the Foxes, due to his time at Southampton before, when he was sacked after being criticized for his defensive tactics. Puel has a tough season on his hands, and so it would be for any manager after losing your star man, however, he has bought well in the transfer window, and it will seem a failure if Leicester are anywhere below 10th in the table. Due to the rumours at the end of last season about him leaving, Puel shouldn't be at the club for any extended period and expect him to leave, especially if the going gets tough at Leicester soon.
---
PREDICTION – 8TH
Realistically, Leicester will be challenging with both Everton and Wolves for the "best of the rest" positions in the table and could potentially get themselves European football depending on how the cup competitions unfold. I do think Leicester have the squad to compete with both Everton and Wolves, but they will be relying on a counter attacking style of football, something to which Puel has been known for at most of the clubs he has managed, Leicester included. However, if Vardy gets injured, then they lack an alternative goal-scorer, with huge pressure being placed on the shoulders of youngster Kelechi Iheanacho. If they are to beat Everton and Wolves to that seventh-place spot, then they must keep Vardy fit. James Madison looks a good prospect for a Leicester side who lacked that creative spark with Mahrez gone, with Leicester hoping he can score a similar amount of goals to what he scored in the Championship with Norwich and be that breakthrough they need. However, due to their lack of depth in a goal-scorer for the squad, the Foxes will finish behind Everton this season in eighth place.
---
PROBABLE LINE-UP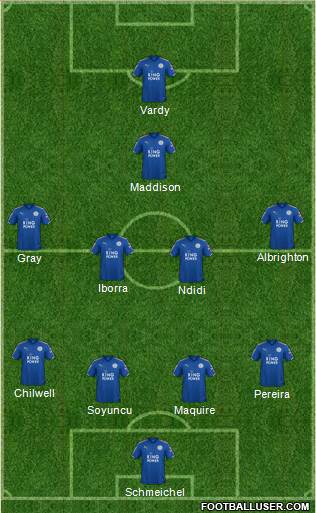 SOCIAL MEDIA EXPERT
@TheSharpeEnd
Sub-edited by Ciaran Wiseman