Hi, I am Levi Sparks and I will be giving you live updates for this match which is taking place at the 02 in London.
Dominic Thiem turned pro at 2011 and has since shot his way to playing some very attractive tennis. This year so far he's got 23 aces and saved 68% of his break points. Clearly the underdog here but not to be forgotten about.
Novak Djokovic is a man that is recognised in world sport and has a superb 16 grand slam titles, he's been labelled as the best 'returner' in today's game and is known for having a powerful overhead shot. Can he produce that today? Let's find out.
This is an important match for both competitors as they look to progress through to the group stages and keep up their good form for the competition.
Djokovic wins the first game with ease as he has too much pace and power for Thiem to deal with. Thiem needs to get himself into the game and fast or we may see a Novak demolition job!
Dominic Thiem responds well and is in no way making things easy for Novak Djokovic in the second game as he works him around the court and wins the second game 45-30. All square!
Djokovic steps up his game again as as he wins the third game of the set and shows us why he is so respected in the game of tennis.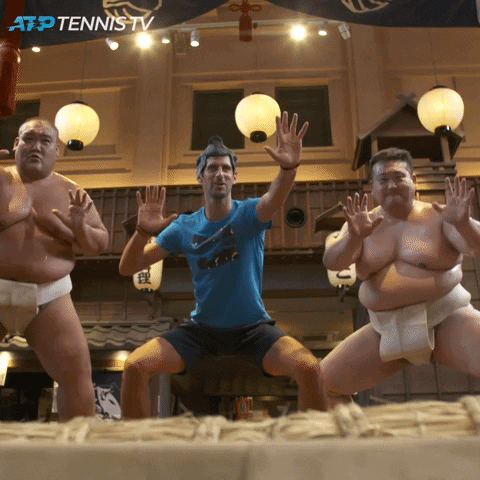 Some fantatsic ralleys happening between the two players here as Djokovic really attempts to stamp his authority on the game and let Thiem know what he can do.
SILENCED! A superb shot from Thiem sees Djokovic rooted to the spot as he attempts a comeback and wins his second game of the encounter.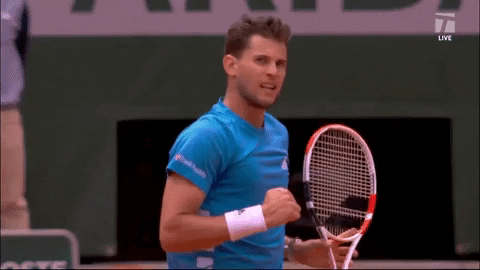 The game is a lot more evenly matched now, both players giving as good as they get, nobody wants to lose this contest.
Djokovic taking a bit of stick from the fans here, he soon silences them for jeering him as before he erupts a venomous shot past Thiem in an intense rally!
Thiem seems to struggle in this fourth game, the Austrian can't quite keep up and it's clear that Djokovic's quality is beginning to shine it's away onto the game.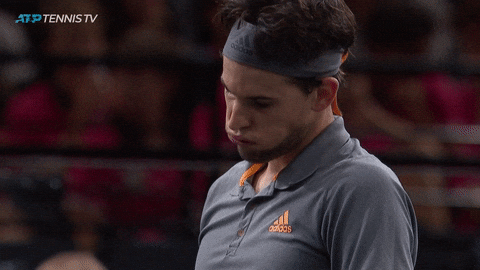 Djokovic again takes the lead over Thiem in games as he wins his fifth of the set, Thiem currently sits on fourth. He's gonna need to pull something special out the bag to beat his opponent.
WOW! Another superb rally from the pair sees Thiem put Djokovic on the floor as he slams a shot to take the point from him. That's got the crowd on their feet.
Thiem again with the composure, shows some old school brilliance and cheekily floats a shot leaving Djokovic scambling to get there. The audacity from the 26 year old is outrageous.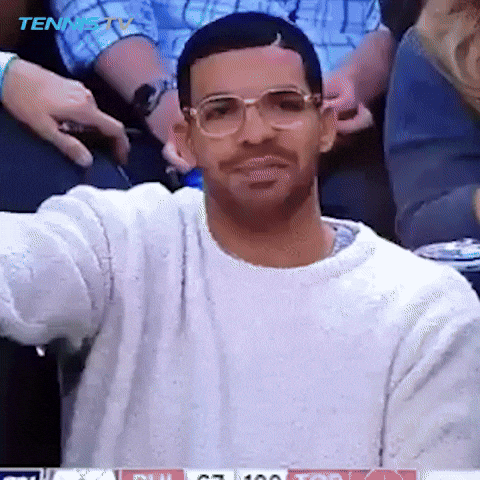 Nearly 50 minutes gone , the score is currently 6-5 Djokovic as he looks like he has the technical edge on Thiem, he's not giving up without a fight though and has shown glimpses of his quality, he's proving his worth as much as he can!
The pair go at it again and Djokovic hits a magnificent backhand which sees off Thiem in the 12th game. Whoever you're rooting for, you can't ignore the quality that Djokovic has.
Tie break!-Djokovic is currently in the lead as he is 4-2 up! This could get intense for the pair as they look to battle it to the end. Thiem needs something and he needs it quick!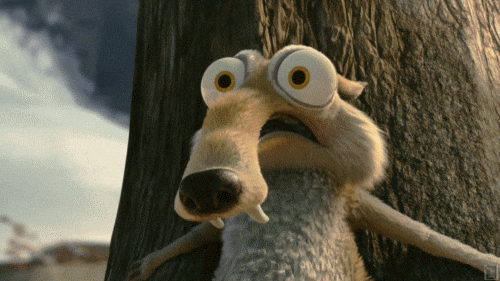 This game has been exhilarating! Both players bringing their A game and showing a real 'never say die' attitude. Nobody is backing down here and showing any signs of slowing down.
Thiem showing real quality here once again! A powerful forehand sees the ball cruise past Djokovic,It's got too much speed for the Serbian to deal with, that makes the score 5-5 .
Thiem was really piling on the pressure and at one point it looked like Djokovic was on the back burner, however Djokovic prevails once again as he proves his worth and makes it 6-5!
DJOKOVIC TAKES THE SET!- Thiem over hits a shot which allows the Serbian to let it go and get his first game under his belt. He always looked the better player despite Thiem showing quality at times.
Novak Djokovic is on top of the leader boards for most points won in various positions for the game. Proving that he can adapt to any kind of situation that the game throws at him.
We're back underway for a second set of exciting tennis. Wee Djokovic has won the First set. Can Thiem claw his way back and make it all square? Lets find out.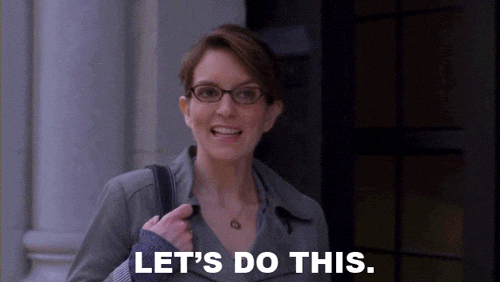 Thiem makes a promising start to the set as he wins his first game comfortably.
SUPERB!-Thiem again! The man proving his worth as he hits a delicous back hand!
Djokovic really struggling to put his mark on this set so far, Thiem is beginning to look like hes making a statement , that's a third game in Thiem's favour, can he win this game?
ACE! Djokovic paves the way for a comeback as he wins a game with a powerful serve which is too strong for Thiem to return.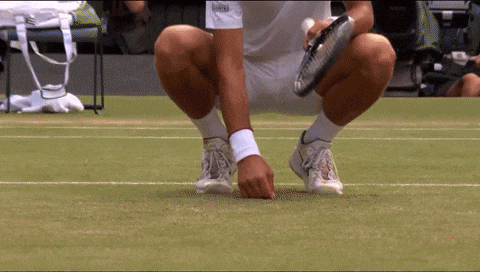 However,Thiem isn't taking his foot off the gas and is 4-1 in games right now. He really wants to win this.
Djokovic misses a shot was so nicely set up for him! That could have really helped his case, he'll be kicking himself over that one, he tries to float it over the net and be cheeky but fails in doing so.
https://giphy.com/gifs/Collider-close-collider-video-z3piokwf0WPH81MOhu/embed
Thiem still leads 4-2 in games as Djokovic slowly chases him down, this game of tennis has been an absolute joy to watch.
Thiem is making sure he's not in the distance of being caught as he wins his fifth game of the set! This man means business.
That's all from me today unfortunately, I will be handing over to my colleague Brandon Spalding who will be keeping you updated with all the news from the match.